Your "real" wardrobe is the clothing that you actually enjoy wearing – clothes that fit your body, style preference, lifestyle, etc. Believe it or not, most successful people…men in particular…have a lot of clothes in the closet that they don't actually wear and feel good about. Perhaps this situation could use some attention?
The end of the year is logical time to set aside a few minutes to give thought… and a little effort… to organizing, culling out what should be given away or thrown away, and generally making sense of everything that is taking up precious space on your clothing racks and shelves.

I was in the closet of a new client this week and we took a few minutes to go through his neck wear collection. For him it was a walk down memory lane. Some of those lengths of woven silk had been hanging there since before Clinton entered the White House. After that guided tour of his neck wear history, I had him go do something else for 5 minutes while I removed the most egregious offenders. When he reviewed and agreed with what I had pulled out of the line up it was like a weight had been lifted. Even better, he can now actually see all of the great options he still has hanging there to choose from.
If you are at a point where it would be timely to go through the closet to make better sense out of everything (I recommend that you do this at least annually), the following are a few suggestions that work equally well for men or women:
Examine the fit, condition, and fashion/style of everything in your wardrobe. Try-on anything that you haven't worn in the past six months or aren't completely sure about the fit. Set aside anything that doesn't work for whatever reason. Be particularly ruthless with accessories (ties, belts, etc.)
Divide your wardrobe into Four Categories:
Items that you will never wear again.
Clothing that might be worn again if properly altered, repaired or coordinated.
All of your Year-round Basics. Further divide these items as either dress or casual.
Seasonal, special occasion, and collectible or vintage garments.
Get rid of everything in the first category. Donate items that could still be useful to someone else (not too worn, stained, etc.)
Items in the second category should be altered, repaired, etc. (I can help with that.)
Clothing in the third category should be placed up front or wherever most convenient in your closet because this is your go-to clothing. Consider your dressing habits and lifestyle as you organize this portion. (I.e. button-up shirts that you wear with a suit or sport coat should be separate from others that are more casual.)
Seasonal clothing should be divided into Fall/Winter and Spring/Summer. Keep the current season's items near the front and properly store the rest. Special occasion clothing (tuxedo, etc.) should be properly cataloged and stored.
---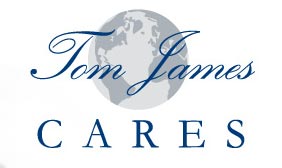 Want to help victims of Sandy while you're at it?
Contact the Tom James store nearest to you to donate your gently used clothing. Tom James is working with agencies in New York and New Jersey to donate your gently used business and professional clothing, but of particular importance is outerwear for cold weather.
Doing good while keeping it real,