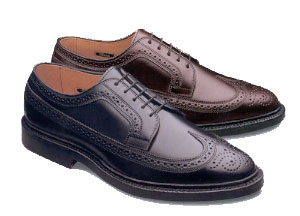 Lets first define what shoe colors there are.
There are three colors of brown (Light brown or burnished calf, chili
and dark brown).
Merlot, cordovan or burgundy.
Black
Next there are three basic color tones for suits.
Blue Tones
Gray to Black Tones
Earthtones (olives,tans and browns)
Now that we have defined what we are working with, let's talk basics on how to accessorize each suit color with the proper shoe color.
Most sharp dressed gentlemen limit themselves to no more than three colors in their primary outfit. For example, a navy blazer, olive trouser and a burgundy striped shirt: the tie should have navy, olive and burgundy in it. Then match the shoe and belt color to compliment the flow of the outfit. In this example, one would wear a burgundy shoe and belt combo.
Let us try another one. Say you have a charcoal gray suit with a merlot stripe in it. It would be appropriate to wear a light gray textured solid shirt to help highlight the charcoal color of the suit. Then look for a tie that has merlot and black to bring out the deco stripe. Finally, to finish the look, I would match up a merlot shoe and belt combo. In this example, You are limited to two primary colors- gray and merlot. This is best as the mind looks at it and says, "simple, elegant and well put together". When you get more than three primary colors in your outfit, your mind says way to much, color overload, you need help, your wife let you out looking like that, etc…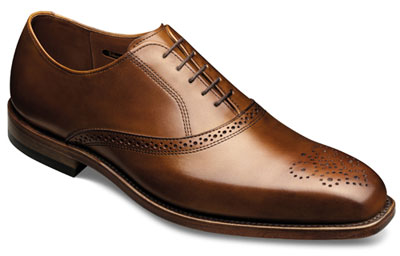 There are three simple roles of thumb to go by:
Combine blue tones with black or burgundy
Combine gray to black tones with black
Combine earth tones (olives, tans and browns) with Brown or Burgundy