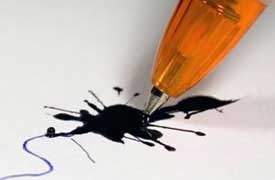 1. TAKE QUICK ACTION – The sooner a stain is treated the better. Time can "set" stains. Almost any stain can be removed if action is taken quickly enough, however almost any stain will become permanent if left untreated too long. Ideally, all stains should be treated within the first 24 hours.
2. BLOT & SCRAPE – Whenever possible, immediately after the stain occurs, blot up any excess liquid with a paper towel or clean white cloth. Scrape solids from the fabric if the stain is dry. Try to remove as much excess as possible before further stain treatment.
3. DO NOT APPLY HEAT – Do not apply heat of any kind to stained fabric. Heat can "set" stains. Before ironing, pressing, or drying a garment in a dryer, check to make sure that the fabric is completely free of stains. If you don't know the origin of a stain, don't use hot water. Hot water can set protein stains such as blood, egg, and milk stains.