How to Pick the Perfect Suit
---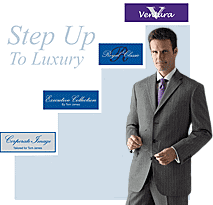 Buy the Best Suit You Can Afford

Most professional clothiers will tell you it is better to own 1 good suit than 2 cheaper ones. Why? Because the better the suit, the more enjoyable and longer the wearing experience. The two biggest factors in the quality of a suit are cloth and construction. Cloth used for making suits varies dramatically in appearance, performance and cost. Construction is a continuum from completely hand-made to completely machine-made. Hand-made suits offer unrivaled comfort and suppleness, but at a premium price. Most suits today are predominantly machine-made. Clothing companies typically offer several collections, or labels, to provide a range of fabric and construction options.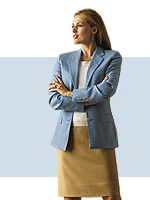 Pick a Cloth that Fits Your Needs

The perfect cloth for a road warrior is entirely different from the perfect cloth for an audit partner or an NBA star. If you travel regularly, a highly durable fabric such as a three season weight sharkskin will serve you better than a very lightweight Super 180's. Similarly, if you throw the strap of a laptop bag over your shoulder every day, then you are going to need a suit made from more durable cloth than someone who does not. Also keep in mind how often you plan to wear the garment. If you plan to wear it once or twice a week, keep the pattern simple - more dramatic patterns are best reserved for garments worn infrequently.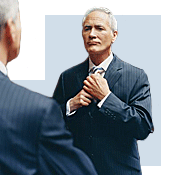 Make Sure It Fits Properly

OK, you've picked the right quality and cloth for your suit, but what difference does it make if it doesn't fit? Proper fit is essential to your enjoyment of your new suit - and how you look in it. First and foremost, the shoulders of the coat must fit your shoulders. This allows for the most freedom of movement and the most flattering lines. Next comes proper fit in the waist and seat, critical for both comfort and proper appearance of pleats, waistbands and other pant features. As you would expect, custom suits have a clear advantage over off-the-rack suits: a properly-measured custom suit will always provide superior fit and comfort.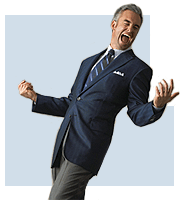 Style It The Way You Want It

Now that you've addressed quality, cloth and fit, finish off your suit with the details that you want. First off: 1, 2 or 3 buttons? A matter of style in most cases, but 3 buttons on a shorter person won't work so well. What about vent style? Side vents are suave and elegant, while the center vent is more traditional. For the lapels, notch or peak? A notch lapel is more conventional, but can be updated as well: consider a higher notch lapel for a more current look. Peak lapels are usually associated with double-breasted jackets, but can be used to raise the elegance and sophistication of single-breasted jackets as well. For the trousers, pleats or flat front? Flat fronts have been extremely popular in recent years. Cuffs or plain bottoms? Your call. Here again, custom suits offer a range of styling options that off-the-rack suits can never match.