Most business travelers are at least aware of the TUMI brand of luggage…especially the carry-on sized roller bags that fit in the overhead bins on most airlines. I never travel without the one I've owned for a few years. It works like a dream and still looks like new.
But did you know that they are also making an ever-expanding range of supremely well-designed travel accessories? Admittedly, I didn't know about some of these genius ideas until recently, but that's what I and my TJ Associates are here for… looking out for your total wardrobe experience."
One of the smartest accessories from TUMI is their Mobile Power Pack. I don't know about you, but my technology devices all get used a ton and I am constantly in need of keeping them juiced up. Being able to charge two devices at the same time is a serious bonus.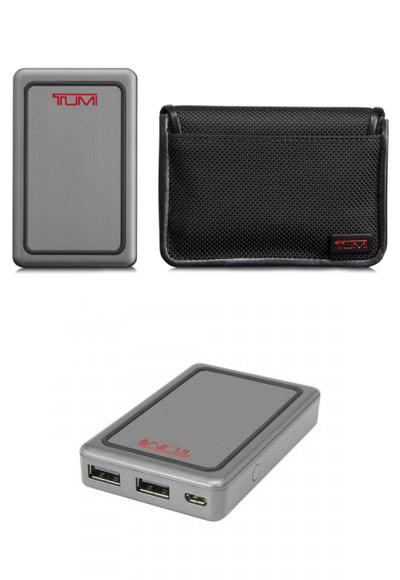 TUMI Mobile Power Pack style 14376– is engineered to be compact, efficient and powerful—a reliable tool for hassle-free charging of cell phones, iPads and other USB devices. With ample power (5,000 mAh) and two power ports, the TUMI Mobile Power Pack can charge two devices at the same time and is designed to work anywhere in the world. This kit includes the power pack, USB/USB micro power cable and protective ballistic carrying case. MSRP $145
The travel kit you will never need to replace is from TUMI. It looks small, but I assure you, it will hold it all!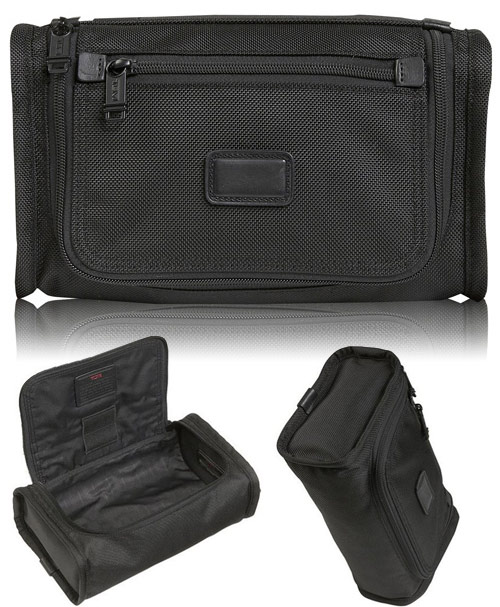 TUMI Travel Kit Style 22190-Our most popular, slim design fits easily into many of Tumi's outside U-zip pockets. Features easy-access opening to interior. This item can be monogrammed with three initials. MSRP $95
I talk to a lot of guys who don't wear ties (you did catch that rhyme, right? Nice.) when they are in their home city/office, but when they travel, the suits and ties come out in full force. Business development is serious work. Good ties cost good money, so it's worth taking good care of them.
While text book advice suggests rolling your ties for storage at home and on the road, the truth is that most guys don't do that. Rolling your luggage: easy. Rolling your ties: not so easy. And a rolled tie is still vulnerable to catastrophe inside your luggage. A better solution? Why not carefully store your chosen ties in this awesome case when travelling? As long as you don't let a bacon wrapped meatball land on them like I did with my new favorite tie (now not so favorite tie) last weekend, your ties will last a lot longer and pack super easy.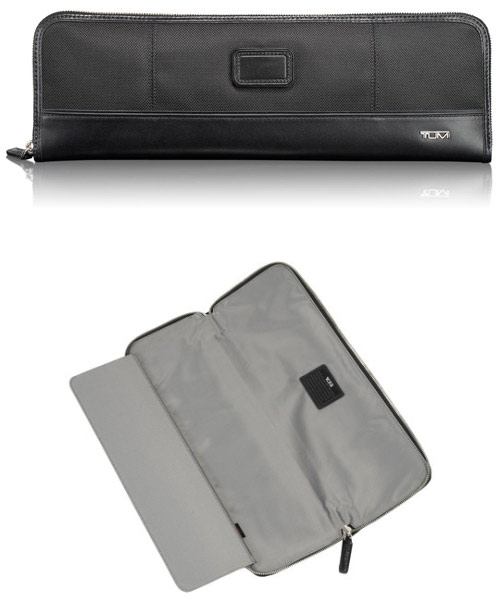 Austin Tie Case – Luxurious detailing, refined aesthetics, organizational efficiency and technical innovation are raised to the highest levels with The Bedford Collection. Incorporating the finest leathers and fabrics with artisanal craftsmanship and advanced engineering, Bedford is a reflection of Tumi's heritage and ongoing dedication to absolute excellence. This slim tie case slips into virtually any carry-on or packing case, keeping your ties wrinkle free. Made from durable ballistic nylon with leather trim (black) or Italian texture coated canvas with leather trim (grey), it has a zip-around closure and four collar stay slots. MSRP $195
TomTalks and Tom James enthusiastically endorse the TUMI product line because of the TUMI difference.
The TUMI difference: Innovation is our Obsession
With a 30-year history of creating superior products for discerning professionals and frequent travelers, TUMI is recognized as the world's leading brand of luxury travel, business and lifestyle accessories. TUMI's success can be traced to its continual focus on its principles of design excellence, functional superiority and technical innovation.
Flawlessly crafted and designed with meticulous attention to detail, Tumi's sleek and stylish business cases, luggage, and other travel accessories ideally complement a Tom James wardrobe. Tom James merges the finest fabrics with artisanal craftsmanship while Tumi's ongoing dedication to technical innovation and supreme functionality makes them an ideal collaborator.
Tom and TUMI, working together to keep you covered, confident and comfortable,