Could Civilization (western anyway) survive without it?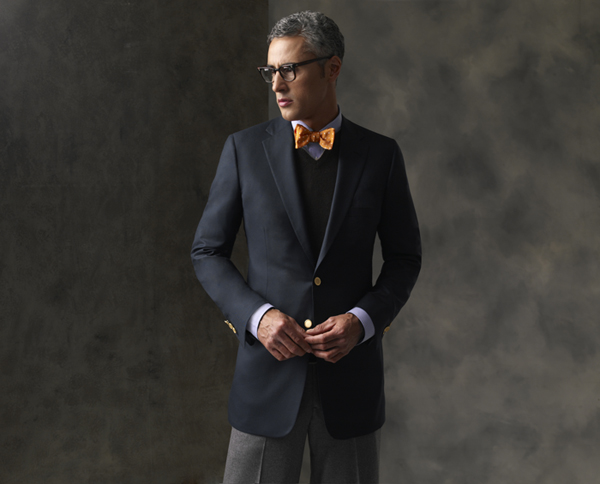 My first serious piece of clothing from the local men's store (The Squire) was a navy blazer – a wool/poly blend, purchased for my high school graduation. I realize that some of you reading this got your first blazer at a much earlier age; but for me, that jacket was symbolic of my transition into manhood and filled me with pride.
Not including the powder blue leisure suit, purchased a few years earlier, of which nothing more needs to be said, I didn't get my first "real" suit, a three-piece grey herringbone, until I was a senior in college. A more modern approach to wardrobe building might be to purchase the suit first; with a blazer (and grey trousers)being the second addition. Either way, the essential nature and casual elegance of a navy blazer is inarguable.
For those who care about such things, red, green, navy or blue, or a boldly striped cloth containing similar tones, would all fall within the range of acceptability for a jacket properly referred to as a blazer. Respected sources, G. Bruce Boyer in particular, suggest that the original blazer was in fact "red" and was worn by the members of the Lady Margaret Boat Club of St. John's College, Cambridge.
The term "blazer" referred more to the color – which appeared to be set-a-blaze – than to anything else about the jacket. The model for what most of us now think of as a blazer has nautical roots, thus the term "navy blazer."  Midshipmen in the British Navy began wearing short navy jackets called "reefers" as early as the 1820's. (The multiple meanings of the term "reefer" are the subject of a different blog.)
Navy blue, more than any other hue, has long been the international standard for the most fundamental and versatile of "odd jackets" (a jacket not belonging to a full suit of clothes.) The most traditional cloths for a blazer are wool serge, gabardine, or flannel. More often than not a blazer would be accented by gold (or brass) buttons, historically exhibiting the crest of one's family or club. For a more relaxed look the buttons could also be bone or mother-of-pearl, ranging in color from white to a medium or even dark brown.
The navy or blue blazer remains a beloved and iconic wardrobe essential because of its universal acceptance, extreme versatility, and at least a mildly subconscious if not direct connection to the sea and a sense of discovery. What's better, there are numerous ways to fine tune the details of a blazer to make it both a classic and very personal expression. Your Tom James Clothier can help you design one that is just right for you.
Already have a blazer? Think that a blazer is just too basic? Consider these five ways to update your blazer in a way that you will thoroughly enjoy:
If the blazer you own is made from a smooth cloth, choose one with noticeably more texture. Or vice versa.
Pick a new shade of navy or blue. Dare to go blue and enjoy the compliments.
Go Double Breasted this time. Classic elegance epitomized.
Get a new blazer with an updated, trimmer fit.
Have your next blazer made by Oxxford (Worth every penny. It will change the way you think and feel about clothing.)
Blazing new trails,