When the mercury rises, your standards don't have to fall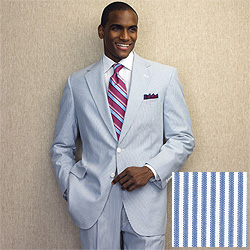 What's the best fabric choice for summer suits?
Easy: seersucker. Anyone who has been to New Orleans in the summer can only imagine what it was like before air conditioning. Seersucker was popularized in "The Big Easy" by businessmen seeking to beat the summer heat and humidity.
Seersucker is perfect for hot weather
because of its natural ability to "wick" moisture away from the skin. The wavy, crinkled finish of the cloth allows only part of the fabric to actually touch the skin. This effect promotes greater circulation and evaporation during steamy conditions.
You can buy seersucker today in suits, shirts, trousers, and even shorts. Suits will look best with buck shoes, and if you want to be a little eclectic, throw in a bow tie.
What other options do I have if I need to wear suits this summer?
Fortunately, technology has come a long way to keep us cool. In 1980, a tropical worsted cloth meant the cloth weight was approximately 9.5 ounces per yard; today, superfine fabrics are available that weigh only 7.0 ounces per yard, a reduction of over 25%.
While you may pay more to get the finest yarns, the performance and hard finish will take 10 degrees off the heat. But don't look to your local department stores when seeking the right summertime fabric weights; a professional clothier is your best option in this situation.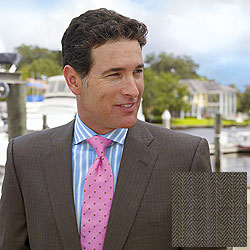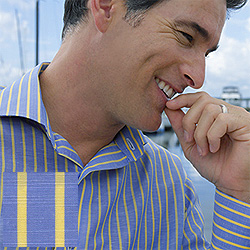 What type shirts are best for summer wear?
The coolest shirts are fine count broadcloths. Again, technology has helped us, as it is now possible to buy up to 200 count fabric. Expect to pay more for the finer counts, but keep in mind that they will outlast coarser cloth; more importantly, they win hands down on the
heat factor.
Pinpoint oxford cloth may be the #1 seller in America, but it's not the coolest. The tight basket weave of pinpoint cloth holds starch well, but holds heat just as well. If you prefer pinpoint cloth, buy the finer counts of over 100 threads per inch, up to 140's, and it will make a big difference in the summer.
I think I know what to wear if we're business casual in the summer.
Well, maybe. Anyone can put on cotton pants and a golf shirt and be cool. And any dog can lay in the shade, pant heavily, and be cool; but it doesn't look very good.
For the best looks in business casual, consider linens. Yes, it wrinkles, but the hollow fibers of linen pull moisture away from the body.
Linen has also hit a note with the fashion police, so you will find it to be very important this season, especially in sport shirts. And don't be afraid to throw in a little color.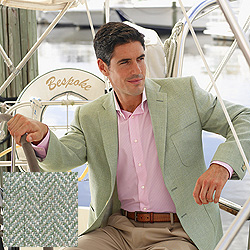 What type shoes go with seersuckers, linens, and poplins?
Go with tan bucks or white bucks (if you're feeling saucy). Simple matte finish shoes. Don't wear your wing tips or cap toe shoes, as these are reserved for dressier suits.