Using natural sources and synthetic processes (and sometimes a combination
of the two), innovative mills are rolling out terrific new high performance
fabrics. Here's a sampling of the best new wrinkle-resistant natural, synthetic
and hybrid products.
Natural: Escorial
Escorial is the world's finest wool (literally). It is produced from miniature sheep descended from a North African flock
kept in the 16th century by King Philip II of Spain at El Escorial monastery
near Madrid. The original bloodline died out in Europe but survived in 100
sheep exported to Tasmania in 1828. Modern Escorial is produced only on
farms in New Zealand and southern Australia.



Escorial is in the range of Super 170's. The fibers are approximately 12.5
microns in diameter, 25% finer than Super 100's, the gold standard just
fifteen years ago (the smaller the micron measurement, the lighter and
finer the fabric).



Garments made from Escorial wool are noted for their unparalleled lightness and elasticity. These characteristics translate into supreme comfort and wrinkle-resistance, two features of particular importance to business travelers.


Hybrid: No-Iron Cotton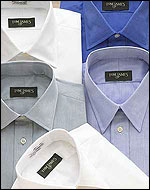 Since the advent of the first synthetic
fibers, no-iron shirting options have existed; unfortunately, these fabrics
were created by blending substantial amounts of polyester, rayon or other
synthetic material with cotton. The end results, while achieving the no-iron
requirement, did not breathe well, discolored easily, and were generally
not as soft or comfortable as 100% cotton.



Going back to the drawing board, scientists have achieved
the breakthrough needed in no-iron cotton by treating the raw material with a
silicone resin that is actually baked into the final product. Because this
silicone resin is heat-activated, shirts made from these new fabrics are wrinkle-free and ready to wear
straight from the dryer. These shirts are also manufactured with taped seams to reduce or
eliminate puckering. The end result is a comfortable, good-looking shirt that does not require
commercial laundering or pressing.

Synthetic: Microfiber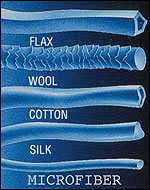 Not to be outdone, pure science rings in with a terrific high-performance cloth in microfiber. Microfiber is a completely synthetic
material composed of extremely fine fibers. While wool fibers are measured
in microns, microfiber is measured in "denier". A microfiber is 0.9 denier
or finer. By comparison, fine silk is approximately 1.25 denier.



Although fine and lightweight, microfiber does not exhibit a flimsy quality; rather, fabrics made from microfiber have depth, body and a luxurious drape. Microfiber is wrinkle-resistant and comfortable in most climates, a boon to travelers. Microfiber has proven to be particularly well-suited for trousers and outerwear.

So whether you opt for all natural, all synthetic, or somewhere in between,
a brave new world of high-performance fabrics awaits your challenge – but not your iron.