Ten Sure Ways to Successfully Mix Up your Look (part of a series)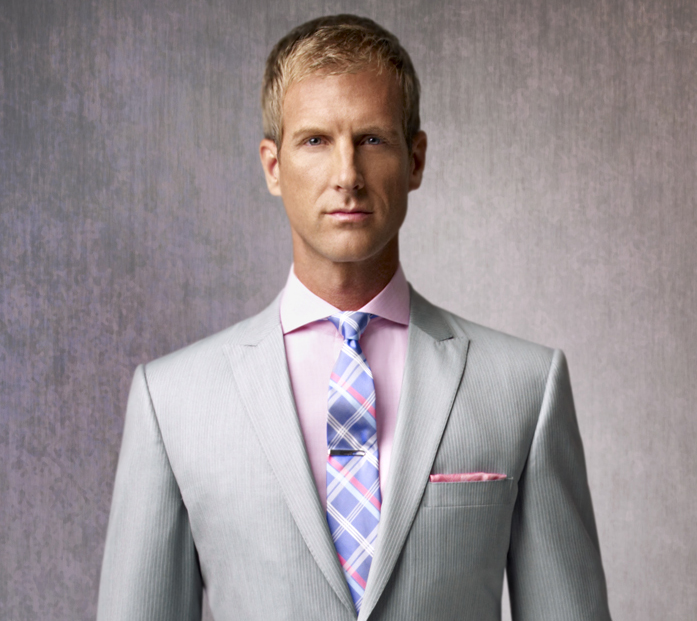 I promised ten. I've given you seven so far: the ticket pocket, western pocket, striped neckwear, the power of a Holland & Sherry shirt made from Thomas Mason fabric, adding a new color or some working button holes (or both at the same time), and last week I suggested you consider the virtues of a vest. Two more today, then you may have to wait until Spring is here for number ten, but it will be worth the wait.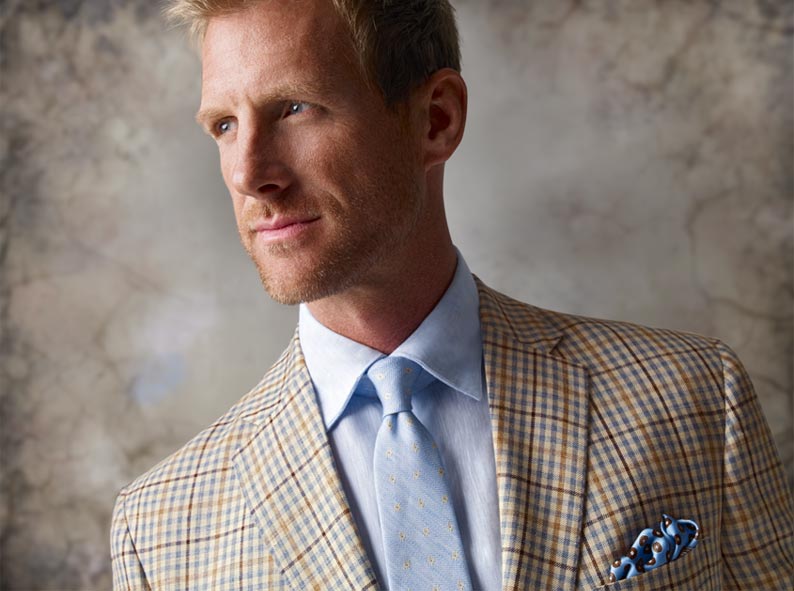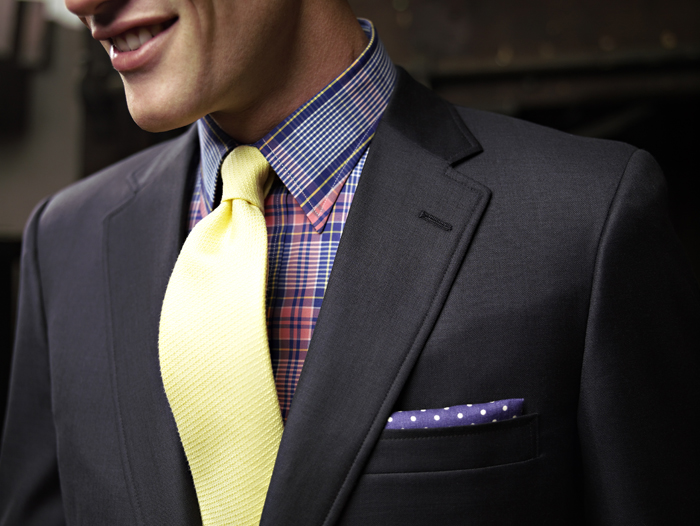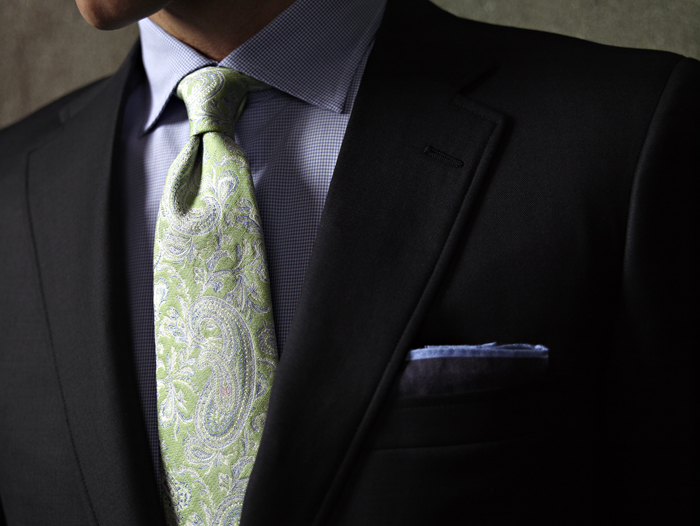 Square it Up!
Add a pocket square … to finish your look.
I like the crisp, straight fold or straight edge look with suits and the puff fold with sport coats. But there aren't any hard rules in that regard. It's part attitude, part personality. You may also want to try "points up." In my opinion, the straight edge and points up work best with squares of cotton or linen, while the puff requires the more fluid movement you get with a silk square.
To see a demonstration of how to fold and wear each style, take a look at this great, short video. Thanks, Tim!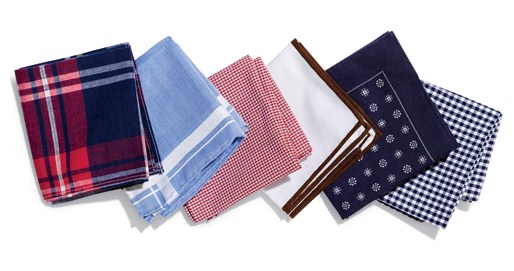 With respect to color and pattern, there is no reason to be timid when wearing a pocket square. The square should coordinate with your tie but not match it. Either the tie or the square should have top billing, but not both. This is one area of getting dressed to develop some variety and push the boundaries. If the dominant color in the square picks up a color in your jacket or tie pattern, you are sure to have a winning combination. At a minimum, begin with a basic collection of a few solid squares (including white linen) and a couple with more pattern and color.
BTW….your TJ Clothier can help you with pocket squares made from tie silk or cotton shirting fabric.
French Lessons
Voulez-vous parlez la langue d'elegance? Oui.
Then may I suggest that you wear more shirts with cuffs prepared for cuff links. A French cuff (or Double-fold, as the English call it), with a tasteful touch of jewelry to keep your cuff together, epitomizes refined elegance.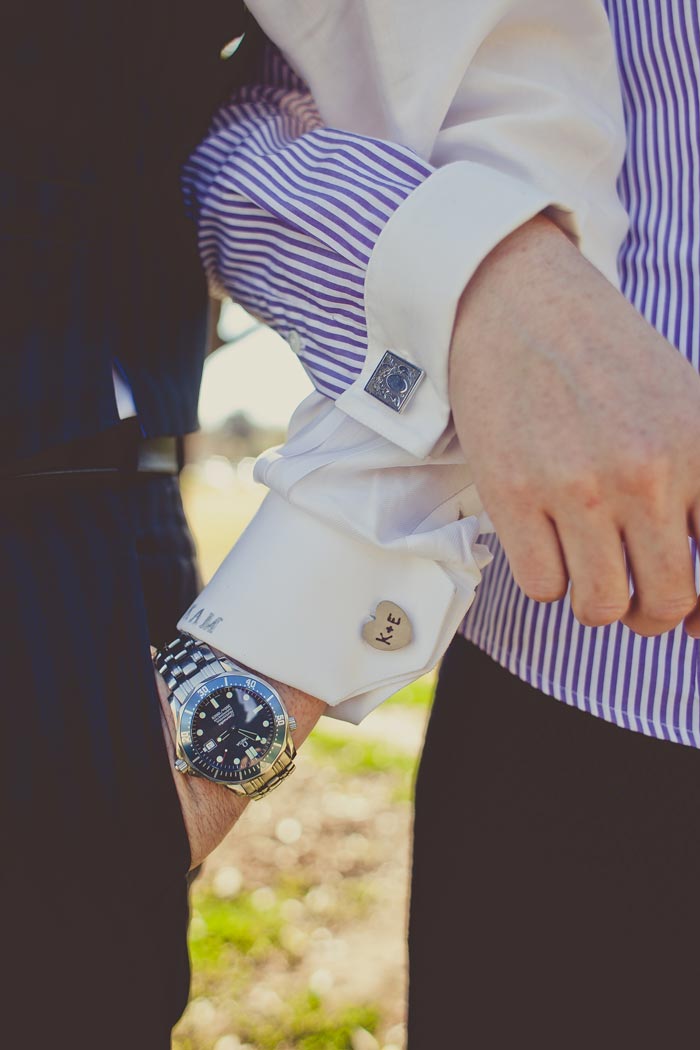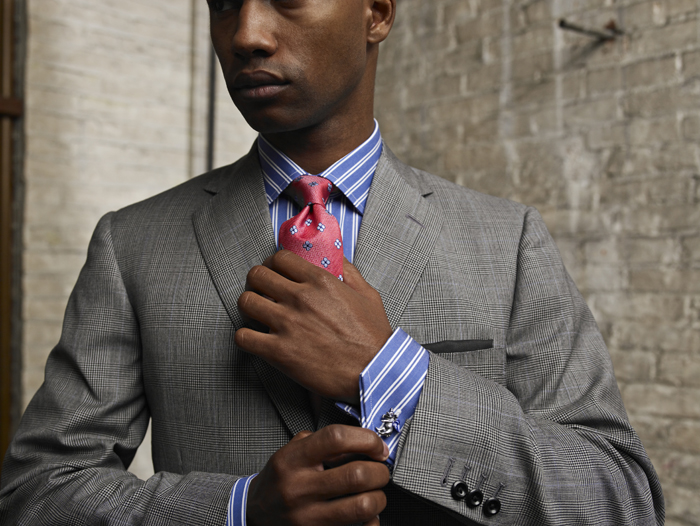 Could French cuffs be too much in some cases? Sure they could. I wouldn't wear them to play in a pick-up hoops game or to stand on the sidelines at my kid's Saturday soccer game. I wouldn't even wear them to the Super Bowl (unless I'd been invited to sit in the Owner's Box.) I might wear them with a bold shirt, some jeans, and a drop dead sport jacket for a guys' night out. For some men it is part of their everyday look, while for others it is reserved for the most special of occasions.
French cuffs are especially appropriate for your finer white and blue shirts, shirts with medium to spread collars, and any shirts that you do with collars and cuffs of white that contrast with the body and sleeves of the shirt (as shown on the blue striped shirt above left.)
If you already have French cuff shirts in your rotation, you may want to consider trying our newest variation within the range of style options that we call the 'Mitered' cuff (shown in the picture above left with the K&E link and in the center photo.) The angled cutaway moves the link slightly further from the wrist and reduces the potential for fraying at the edges. If you get frustrated because your French cuff shirts wear out to easily, this may be your answer.
So, get a couple of new pocket squares and a fresh stack of shirts with French cuffs, and you are sure to make a confident impact.
Sartorial Regards,



Tom@tomjames.com