It's back to school time! In today's session we will cover the finer points of wool – and why all cloth is not created equal.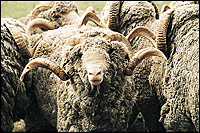 The quality of the raw wool is the single most important factor in the outcome of the finished cloth. Wool is judged in 5 key areas:
Diameter. The smaller the diameter of the raw wool fibers, the more luxurious the eventual cloth. Wool diameter is expressed via the "Super" scale. On the "Super" scale, cloth made from finer diameter wool has a higher number. For example, a "Super 100's" cloth is made from wool with a diameter of about 18.5 microns; compare this to an ultra high-end "Super 220's" cloth with a diameter of just 12.5 microns. (For perspective, human hair has a diameter of 60 – 70 microns!) Just remember: the higher the "Super" number, the finer the wool fibers.
Length. The longer the raw wool fibers, the better. Longer fibers resist "pilling" and lead to a more consistent cloth. The ideal length for a suit cloth is five to seven inches.
Strength. A strong fiber ultimately weaves into a strong and enduring cloth; a weak fiber will result in a poor cloth. Wool is measured for its tensile strength.
Crimp. Crimp is a measure of the natural elasticity or memory of the fibers. Wool fibers must have a certain degree of memory in order for a finished garment to recover between wearings and maintain its shape.
Purity. Raw wool must be carefully scoured (cleaned) to remove all impurities and organic materials that may have become trapped prior to shearing. Even the slightest extraneous material will result in unwanted irregularities in the cloth.